In the last installment of our three-part blog series, we focus on the intersection of digital technology and marketing—and how they can work in tandem to achieve Customer 360.
In the previous posts for the series, we discussed what customer 360 really means and how leveraging data is crucial in direct sales. Here, we're going to focus on how technology can save direct sales organizations and their distributors time while increasing revenue—which is unusual because most CRM and digital marketing technology initiatives to date haven't been able to accomplish both.
As we've discussed, data and technology can empower you and your distributors to:
Get a better understanding of the current state of the business;
Address your most urgent needs and gaps;
Connect the different silos of your business together, enhancing operations and efficiency;
Improve your customers' experience and establish better customer relationships;
Communicate more effectively;
Reward and incentivize desired behavior and performance; and
Ultimately, become more profitable.
Know AND Understand How Technology Can Be Applied
Most executives already know that technology can be used to improve internal processes and coalesce data, but few understand how it can be applied to large-scale marketing. I'm talking about specific, targeted campaigns that either corporate or distributors can deploy in a matter of seconds…without hours of research, sorting, filtering, manually sending personalized emails to each customer, or reliance on sellers who may not be engaged.
Not sure what I mean? Let me paint you a picture…
Let's say "Suzie" has been a distributor with your direct sales organization for six months now. She's over the initial excitement and also past most introductory periods that incentivize activity with extra bonuses. She's doing her best to keep the momentum, but it's time consuming to stay connected with her existing customers;  create engaging social media posts; keep an active pipeline of prospects, meetings, and coaching calls—all while taking care of her kids, making time to work out and—oh— maybe eat.
She's part-time in this business and has seen some success. So, let's say she puts in roughly 20 hours a week. For reference, the average distributor usually logs about 10 hours a week. Most don't make more than $1,000 total, so they don't renew for a second year.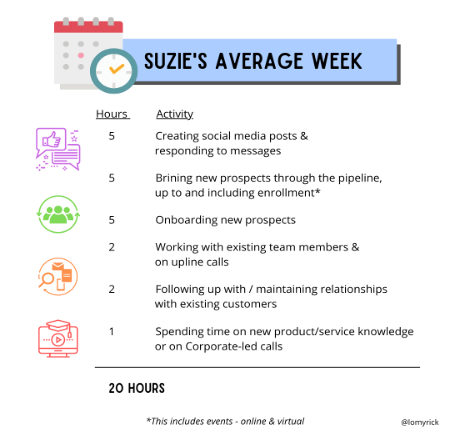 The numbers can vary, but we know most distributors spend a lot time recruiting and prospecting, so retention is a huge challenge. And, we also know it takes more time to build a new customer relationship versus maintaining an existing one.
Imagine if your direct sales organization could:
Simplify the process of organizing prospects and communicating individually to them, reducing the amount of time it takes for a distributor to make contact and increasing the conversion rate;
Easily track event ROI on the distributor and corporate level, which means you could find the distributors with the most successful events (highest conversion rates) and use that information for teaching best practices;
Give distributors the ability to easily deliver a customized message to all of their existing customers and prospects with the click of a button;
Reach out to existing customers—as corporate—with a personalized message or recommendation when distributors don't engage in communications after a few weeks;
Understand how impactful every email, text, and other forms of digital communications are; and
Merge corporate and distributor communications into one channel, allowing distributors to see all the messages their customers are receiving.
This type of reality makes those 20 hours that Suzie has exponentially more powerful. She would actually have the capacity and ability to maintain a relationship with her existing customers and not get frustrated six months into building her business. That means you increase distributor retention, customer sales, customer satisfaction, and customer retention—without requiring your distributors to work more.
Time to Take Your Technology to the Next Level
Essentially, there are not any companies in the direct sales industry currently leveraging this kind of technology. This even goes beyond many of the major retailers' strategies and capabilities. But this type of technology does exist today. Its benefits are immense: cost and time savings along with revenue generation. What a trifecta! Not to mention, the ability to reduce headaches for distributors and corporate sales teams is priceless.
Isn't it time to take your digital marketing and CRM technology to the next level?